Highland Books, Brevard, NC
BACKROADS BOOKSTORES, literary ramblings from sea to shining sea.
Brevard North Carolina is the county seat of Transylvania County with a population of about 7,500 and an elevation as just over 2,200 feet above sea level.  The vibrant little town is situated at the entrance to the Pisgah National Forest. The area is well known for white squirrels who "took up residence after a carnival trunk overturned" allowing them to escape into the wild. Did I say the people of Brevard enjoy a story? It is the home of Brevard College and Brevard Music Center. Moms Mabley was born here in 1894. The official dog is the West Highland White Terrier and the official rooster is the Silkie.
I spend a good amount of time in Cashiers, North Carolina which sits proudly at the crossroads of U.S. Route 64 and North Carolina Highway 107. It is a world away from chaos. U.S Route 64 stretches from Whale Bone Junction, North Carolina to Teec Nos Pos, Arizona. I've found several Backroads Bookstores in communities along the western mountains section of Route 64: Hendersonville, Brevard, Highlands, and Franklin. And it is just a short detour to Tryon, Sylva and Waynesville, each sporting a vital bookshop.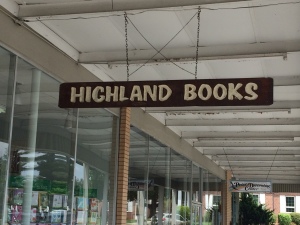 Highland Books in Brevard was started in 1976 by Tim and Peggy Hansen who had a romantic idea that they would plant bookstores all over the mountains. They saw themselves as the "Johnny Appleseeds of bookstores." But Brevard had different plans for the Hansens. The natural beauty and small-town friendliness captured their hearts and they are still running Highland Books in Brevard in 2015. Their two daughters were born in Brevard — Lena in 1979 and Megan in 1982 — and grew up in the bookstore. both daughters became booklovers and writers. Lena, who works for a sustainable energy policy organization in Colorado, is co-author of the book Reinventing Fire: Bold Business Solutions for the New Energy Era. And her younger sister, Megan, is an accomplished author of YA novels.
The store eagerly awaits Megan Hansen Shepherd's book launch for her fourth Young Adult novel, The Cage, on May 26, 2015. Megan has published a trilogy; Madman's Daughter, Her Dark Curiosity and A Cold Legacy. The Cage is the first of another trilogy published by Balzer + Bray.
The Hansens are deeply involved in community projects involving the schools, library, local authors, reading groups. They are particularly pleased to have helped collect books to create a library for an after school tutoring program.They also give their time to the Free Clinic of Transylvania County; the missions at St. Philip's Episcopal Church; and El Centro, which serves the local Hispanic population. Peggy compiled the oral histories of 20 residents in Transylvania Memories. And Tim has served on Brevard's planning board and promoted peaceful conflict resolutions through a a foreign-policy group.
Highland Books offers a large selection Fair Trade gift items from Ten Thousand Villages, many gifts, cards, gifts, books of local interest, bargain books, and bestsellers. Tim said that they don't have a live shop pet, but proudly gestures a white squirrel on the shelf – which holds a miniature copy of Megan's book – as their pet. Highland Books 'shop pet' is actually papier mache art by Marcia Brennan, one of the top local artists at #7 Gallery in downtown Brevard.
Straight from their website: "At Highland Books in Brevard, one couple encourages community members to explore the world around them — whether they travel far away or decide to stick around."
Highland Books
277 N. Broad St.
Brevard, NC 28712
www.facebook.com/pages/Highland-Books/119789764739283