City Lights Bookstore, Sylva NC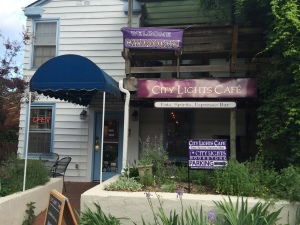 BACKROADS BOOKSTORES, literary ramblings from sea to shining sea.
Sylva is the county seat of Jackson County in the Plott Balsam Mountains of Western North Carolina at 2,057 feet above sea level with a population of about 2,500. The Jackson County Courthouse is sited dramatically atop a hill at the end of Main Street. The Courthouse was recently expanded to create the new Jackson County Library. Nearby Colleges are Southwest Community College and Western Carolina University which is the home of writer, Ron Rash.
I spend a good amount of time in Cashiers, North Carolina which sits proudly at the crossroads of U.S. Route 64 and North Carolina Highway 107. It is a world away from chaos. U.S Route 64 stretches from Whale Bone Junction, North Carolina to Teec Nos Pos, Arizona. I've found several Backroads Bookstores in communities along the western mountains section of Route 64: Hendersonville, Brevard, Highlands, and Franklin. And it is just a short detour to Tryon, Sylva and Waynesville, each sporting a vital bookshop.
 Chris Wilcox is the current owner of City Lights Bookstore having bought it in 2010 from Joyce Moore, who he credits as building City Lights into a beloved community institution. Chris is a life-long Cullowee Valley native, save for a brief foray as a ski-bum and paramedic in Utah. Upon returning in 1997 Chris joined the City Lights family where Joyce gave him his start and trained him in the trade. Chris has a vibrant staff and two shop cats Cedric and Rowena.
City Lights Bookstore has been selling new and used books, gifts, journals and maps since 1984 when it was started by local story teller and writer Gary Carden. Their goal has always been to share the literature of the Southern Appalachian region with the world and the world of books with their community. City Lights Bookstore recently celebrated it's 30th Anniversary.
When I rambled into City Lights they were preparing for Liars' Night, an event featuring Kim Michele Richardson author of  Liar's Bench, and Jamie Mason author of Monday's Lies. Maybe it is just the spirit of City Lights, but I have never been to an author event which was as fun as Liars' Night. Kim and Jamie are old friends, who have supported one another on their writer's journey. Occassionally they will tour together, and truly, they should always tour together.  They have seen each others work to publication and comment on the other's writing as much as their own. Kim started reading from her work but threw up her hands claiming that she's no good at reading her book, so Jamie took over and read for her. Refreshments included food referenced in their books such as crackerjacks and elderberry wine. They conducted haphazard raffles and played a Liars' game where they each made bold statements and the audience guessed whether it was a lie or the truth. I was the lucky recipient of a goodie bag because I guessed truth that Jamie has a cocktail named after her in a pub outside of London. The Jamie is a Rhubarb Whisky Sour. Or was it whether Kim has surgery without anesthesia, while riding in a limo with Elvis?
Between the books, the staff, the various community events and the adjacent cafe, City Lights Bookstore is a great destination in Sylva, North Carolina.
City Lights Bookstore. 3 E. Jackson. Sylva, NC. 828-586-9499