Some Families Never Get House Broken
House Broken by Sonja Yoerg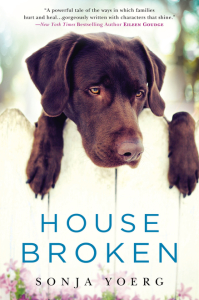 Agent, Maria Carvainis
Editor, Claire Zion, NAL Accent/Penguin Group
336 pages
When I read 'animal behaviorist' and 'dysfunctional family' in the same sentence, I knew I was in for a good ride. What I didn't expect was the complete control Sonja Yoerg had over this story. From the first page HOUSE BROKEN is like a bus leaving the station, better hop on and let the lady drive. The carefully crafted plot is tight and fast. Every piece serves the story. To paraphrase Chekhov: if you put a gun in the drawer in Act 1, you better use it by Act 3.
Yoerg weaves together the story of three generations of women: Geneva, a veterinarian and animal behaviorist; Helen, her alcoholic mother; and Ella her tempting- trouble teenage daughter. Yoerg's close third person narrative alternates between each of these characters, and each character has a unique, authentic sound. I particularly like this choice for multiple characters. The close third point of view is more intimate than distant third without the restrictions of first person. For more discussions on this technique and other writers who use it well click here. 
I was impressed at the wide cast of characters beyond Geneva, Helen and Ella. It is difficult to create a realistic rambling family without confusing the reader but these extended families jump off the page, recognizable and lively. Further, this family drama is not filled with cliche monsters or victims, rather it is a nuanced, realistic portrayal of difficulties. And funny to boot.