From Diapers to Driver's Licenses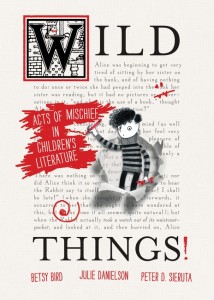 Wild Things: Acts of Mischief in Children's Literature
by Betsy Bird, Julie Danielson  and Peter D. Sieruta 
Candlewick Press 2014
Editors, Liz Bicknell and Carter Hasegawa
Agent, Stephen Barbara and Foundry Literary +Media
While speaking at Parnassus Books' event "Wine with the Author", Julie Danielson explained the three authors' goal in writing Wild Things: Acts of Mischief in Children's Literature. Their idea was to dispel all ideas of sweet, easily dismissed, insignificant "kiddie lit." All too often children's literature is romanticized or worse, the object of condescension. Authors Danielson, Bird and Sieruta passionately needed to speak out against these notions. "The one constant truth about children's literature is the immense influence it has on it's reader's lives." Danielson notes the overlooked fact that children's literature is the only genre "whose primary audience does a complete rollover in the time it takes to move from diapers to driver's licenses."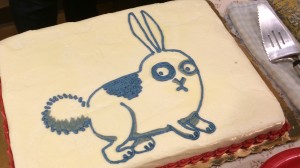 Just for fun, Danielson suggests, that we ask people what they think of The Giving Tree (by Shel Silverstein.) She describes the book as polarizing and divisive, reading hilarious reactions she has gathered. In the end, however, she explains that adults squirm for many different reasons but children find The Giving Tree strangely comforting. Kids read books differently from parents, and that, she says, is the point.
Books not only accompany social change but often precede it. Danielson reaches back to 1844 Germany when Heinrich Hoffmann, out of frustration, created his own controversial and subversive children's book referred to now as Struwwelpeter. She also discusses one of her favorite new picture books Gaston, which questions gender norms. Such books can be pivotal. she insists, and important.
Danielson addresses celebrity forays into the genre with a little good natured snark. Madonna reportedly said, "Well there's, like, no books about anything." So Madonna did us all a favor by writing one of her own. To this author Jane Yolen responded, "I'm getting out my pointy bra and brushing up on my singing and dancing, because there's no good pop music out there."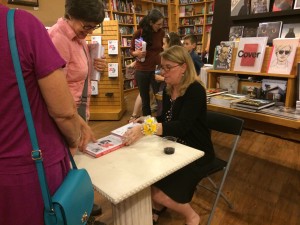 Danielson found that writing non-fiction required a great deal of attention to detail and care. She also admitted to turning in over 700 pages before cutting the manuscript down to 227 pages. Fortunately for us, the outtakes can be found online at the book's blog.
Some of her favorite stories that didn't make the cut are author, James Marshall's character laden tombstone in Marathon, Texas, and the taxidermied body of Misty of Chincoteague, which is now on display at Beebe Ranch in Chincoteague, Virginia. The stuffed horse has been named an honorary member of the American Library Association and was photographed attending a party in her honor. That absurd photograph was briefly considered as the cover of Wild Thing: Acts of Mischief in Children's Literature.
Julie Danielson is a nationally known librarian, Kirkus book reviewer, judge and blogger at Seven Impossible Things Before Breakfast. She is also a sign language interpreter and a much loved Saturday morning story teller at Parnassus Books. She currently lives in Middle Tennessee.
For a review by Tracy Barrett and more in depth information go to:
Also: